Customer Testimonials
Read & see what some of our customers have shared with us...
Leafy Napkin Rings in Black & White Napkin Rings Make the Table! I was so excited to find your products last year while traveling in the east. My beautiful wedding china in black and white had been in storage for many years because I had a clashing carpet. We had just changed that and I was so excited to find your black/white leaves and napkin rings that would enhance my table. I have enjoyed so much setting it for guests.
Donna T. (a Texas visitor)
Wreath Placemats Set the Stage! You have helped me decorate my Christmas table this year beyond my expectations!! My husband and I received this forest green-bordered Spode china for our wedding 49 1/2 years ago.
We used it the first year only and then I switched to a Lenox cream and gold colored china. But when I saw your wreath placemats!!!!! I pulled those dishes out of my china closet faster than Rudolph flies!!!!
When the placemats arrived last week... I HAD TO SET MY TABLE!!!
Thank you Carole...YOU ARE THE BEST!!
Lynda M. 12/20
Perfect Fit! What an amazing artist you are. So glad I purchased 6 Interlocking Leaf Placements. They fit perfectly when table is at regular size. Such a thrill meeting you and most fun purchase of my year! Best, Stephanie 12/19
Claudia B. 11/19
Get lots and lots of compliments! Love my two year old table runner I bought at The Villages craft fair.!!! And many thought I had it painted on the table. Thanks for your creative designs.
Sarah H. 2/17
Hi Carole,
I thought I would resend the photos...your placemats looked fabulous at my daughter's luau party! I would be honored if you posted my photos! I am very excited! Your placemats definitely were perfect for the occasion. My daughters and I love all of them!
Susan L 3/19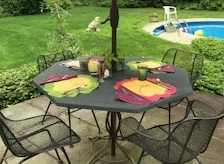 Tickled Pansy Pink! Look how pretty your hand-painted linen mats look here! I decided to gift your pretty creations for my dear friend's 92nd birthday. She was tickled pansy pink.
Robin C.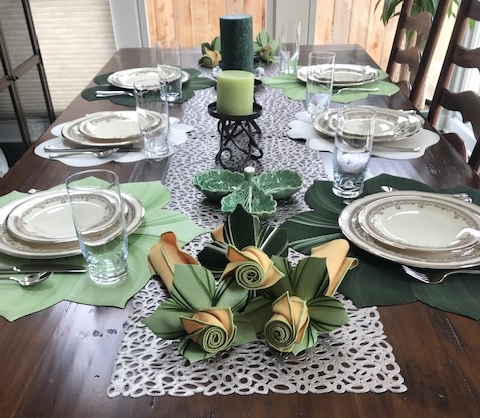 Thank you soooo much. I thought you'd appreciate a photo of my St. Patrick's Day Brunch table. You deserve all the credit for the compliments I received.
Mike N. 2/19