Carole Shiber has been putting her imagination to work in the home since 1989, when she sold her first hand-painted placemats and napkins to Macy*s New York ~ a $10,000 order which she single-handedly filled from her bedroom in Brooklyn, New York. Orders quickly followed from other neighborhood stores: ABC Carpet & Home, Barney's New York, Henri Bendel and Fellissimo. Next came a personal appearance at Neiman-Marcus, with a trunk show yielding record sales.
As a painter and conceptual designer, Carole Shiber continued to follow her heart and used her head to bring original ideas to often predictable tabletop design. And with her fresh and friendly looks, and an ongoing presence at seasonal Gift and Home Textile Shows beginning in 1994, Carole Shiber Designs quickly grew from a popular one-woman act to a very successful cottage industry, utilizing the talents of local NY artists.
Next came the $40,000 order from Williams-Sonoma, with the big truck pulling up in front of her brownstone apartment to pick up 96 boxes of her graphically-shaped, hand-painted linen leaf and flower placemats, with the coordinating coasters ~ the driver admitting that this was his first domestic pick-up ever.
Carole's friendly images, at once whimsical yet sophisticated, are made from her broad, painterly signature strokes, whether hand-painted in Kingston, New York, or printed as licensed artwork for endless application. Made to bring more fun and creativity to the table, Carole's concepts, designs and shapes quite simply "make people happy".
Now known in the industry for popularizing the graphically-shaped, die-cut placemat, Carole Shiber's artful products (such as hundreds of her best-selling placemat designs) sold to many of our favorite "go-to" stores for years ~ retailers such as Macy's, Bed, Bath & Beyond, Linens & Things, JC Penney, Sears, Kohl's, SteinMart and Home Goods.
Having established a permanent seat at our nation's table, Carole Shiber then ventured into the bath with a licensing agreement with Croscill Home. Using the shower curtain as a giant painter's canvas, she applied her larger-than-life, nature-inspired images to shower curtains to create "getaway fantasies", like scenery. Then Carole joined hands with Clay Art and Formation Brands, where she was able to bring her creativity to ceramics and glassware, where they sold to national chains and gift stores alike.
Carole and her visionary husband, Bill Cochran teamed up creatively early on to bring even more invention and artistry to her original designs. Working with her fluid shapes, they further arranged these natural forms, creating interactive, personally-customized tablescapes, the Tabletop Garden. Many of you have enjoyed the show, as artfully demonstrated in their entertaining booth, ART*TABLE*GARDEN, as it tours the fine arts & crafts circuit and national flower shows, as it goes to grace homes everywhere.
Working together in every aspect of the business, Bill and Carole opened the Carole Shiber Store in 2012 at 290 Fair Street, in Uptown Kingston, New York, where one can find a veritable garden or creativity. Bill houses his music studio here as well, playing French horn in both classical and techno "looping" sounds. Their daughter, Faith Shiber-Cochran recently graduated from Purchase Music Conservatory with a Bachelors of Music, singing opera.
Carole now brings her painterly and illustrative hand and heart into additional categories, as seen in her new Carole Shiber
Washi Tape line, a best-selling collection with Paper House Productions, and is now ready to entertain the world of paper and stationary. with more new products waiting to serve.
She loves her work, and is so grateful she gets to be a person who can bring imaginative and innovative designs into the world ~ and hopes they may bring the same joy they bring to her. Invite her to your table today, and let her imagination work for you.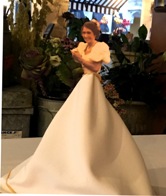 And ask her about her new product above.
(With these, you can make your waist as small as you like.)
CLICK BELOW the top story to watch Carole's story, as cap!ured by News Anchor, Elaine Houston, on her ground-breaking segment, Today's Women, WNYT, News Channel 13, an NBC affiliate. Thank you, Elaine!