Beginnings
: Opening the Door to Creativity
Carole Shiber has been putting her imagination to work in the home since 1989, when a friend asked her to help him decorate his new kitchen, liking what she had done to hers. She was delighted to, then offered to make him some napkins to go with it. At the fabric store the next morning, she was gifted with an unstoppable creative spark. Over night, she made her friend an imaginative collection of napkins and placemats, then following suit, designed a series of placemat, napkin and coaster sets which she named, Piece Meals(tm) -- artful pieces for mealtime settings. Soon she began painting fabrics for these pieces. And within a year she had sold her first hand-painted placemats and napkins to Macy*s New York ~ a $10,000 order which she single-handedly filled from her bedroom in Brooklyn. Orders quickly followed from other neighborhood stores: ABC Carpet & Home, Barney's New York, Henri Bendel and Fellissimo. Next came a personal appearance at Neiman-Marcus, with a trunk show yielding record sales; then the $40,000 order from Williams-Sonoma, the big truck pulling up in front of her brownstone apartment to pick up 96 boxes of her uniquely hand-painted linen leaf and flower-shaped placemats and coasters ~ the driver admitting it was his first domestic pick-up ever.
.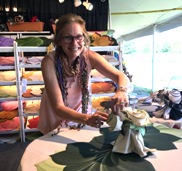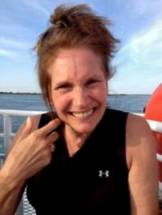 As a painter and conceptual designer, Carole Shiber continued to follow her heart and used her head to bring original ideas to often predictable tabletop design. And in 1994, Carole met Bill Cochran, who immediately saw the magic and promise in her work. As an artist and innovative musician himself, he was inspired to bring his own talents to her fledgling cottage industry. Pioneering special die-cutting techniques and an innovative use of materials, Bill was able to bring even more invention to her original concepts and designs. This boosted the design capabilities and led to a more affordable product for more people. And with their fresh and friendly looks, and an ongoing presence at seasonal Gift and Home Textile Shows, Carole's one-woman show quickly grew to a successful art & craft business increasing potential.
Licensing
Now known in the tabletop industry for popularizing the sophisticated. die-cut placemat, Carole Shiber's artful designs and concepts have been licensed and sold through many of our favorite "go-to" stores for years ~ retailers such as Macy's, Bed, Bath & Beyond, QVC, Linens & Things, Pier 1, JC Penney, Sears, Kohl's, SteinMart and Home Goods, while her innovative table linens, as meticulously hand-made and painted in Brooklyn & Kingston, NY, and have been consistently selling to high-end stores and fine arts and craft venues since 1994.
Having firmly established a permanent seat at our nation's table, Carole ventured into the bath. Inspired to use the shower curtain as a giant painter's canvas, she applied her larger-than-life, nature-inspired images to shower curtains to create "getaway fantasies", like scenery, and was soon licensed with Croscill Home. And simultaneously, she joined hands with San Francisco's Clay Art and Formation Brands, where her colorful creativity naturally took to ceramics and glassware, both with best-selling collections to national chains such as Macy*s, Linens & Things and Coldwater Creek.
Carole's painterly and illustrative hand now also graces her own washi tape line, as licensed and distributed by Paper House Productions, currently top-selling at A.C. Moore and many online crafting outlets. With this latest success in a new category, she's been inspired to create more crafting, stationary and paper designs, which she currently seeks also to license. Check her first Premium Paper Placemats, as she previews just a few of her latest ideas for our loyal customers right here ~ with so many more on her drawing board! Invite Carole to your table now ~ and watch the joy unfold.
ART TABLE GARDEN & Table Crafting
Shortly after Carole's first premiere splash, Bill Cochran landed on her doorstep (literally) with his own creative energies. He soon became her partner in every aspect of the word. And once Carole began playing with shapes, he saw these shapely designs as interactive, and began playing with them in magical and functional ways. What evolved was the creation of Interlocking Tablescapes, with Carole's leaf and floral placemats intermixing and layering for their inventive Tabletop Garden. Bill then designed an interactive booth for the artful and informative demonstration of building one's own custom tablescape, inviting and directing the arts and crafts show-goer the freedom to play and experiment with their broad palette of shapes and colors. This creative Table Crafting combines assorted but related placemats and artfully edged napkins with Carole's inventive Leafy Napkin Rings, which turn napkins into flowers, offering collections as unique as we all are.
Calling his Art Table Garden booth his little "church of creativiity", Bill strives to bring joyful, special moments to their customers with humor and warmth, as he tours national flower and fine arts & crafts shows.
We look forward to seeing you soon ~ to help create your special home decor and wonderful memories around your table with family & friends.
Love, Bill & Carole & Faith Shiber-Cochran